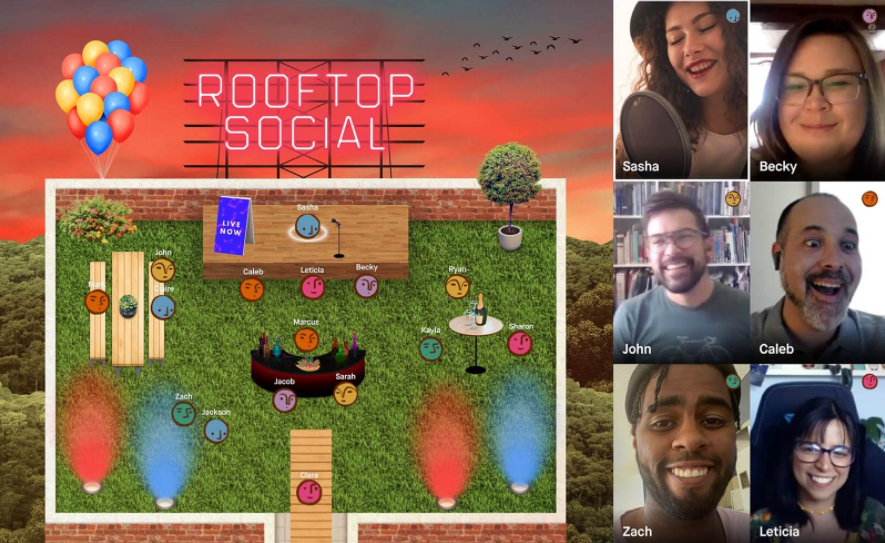 2021 – present.
Lead Experience Designer. Manage a team of 3 other designers.
---
Bramble is a more human way to gather online. It has everything you need to create and customize your own virtual space for every kind of social gathering online.
People move seamlessly between conversations, run into friends, go for walks, and explore beautiful virtual worlds — for work, play, or special events.
"It's like Zoom meets Animal Crossing." – Reuters

"Bramble is the videoconferencing platform I wish existed at the start of the pandemic." – Gizmodo
---
I lead a team of designers to create virtual spaces and to design product features for Bramble. I'm responsible for design vision and execution, and plan the team's goals and roadmaps. I established the world building pipeline, including version control and deployment to production, that was used to create the flagship line of virtual spaces for the product. 
As the lead experience designer, part of my role is to be a connector between implementation teams and the company goals. Our team's output supports the efforts of our sales, community, and marketing teams. 
I hire and train designers to build a talented and diverse team. We design with an eye for interaction, usability, clarity, navigation, and delight. Our team is responsible for the production process from end to end, including conceptualization, mockups, wireframes, grayboxing, implementation, testing and observation, iteration, deployment, managing releases, writing patch notes, and maintaining documentation. We collaborate across teams with art, engineering, sales, community, founders, and clients, to establish project specifications that meet the requisite design goals, client needs and production timeline.