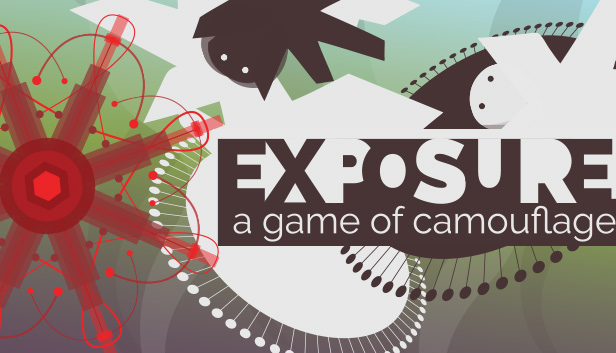 Steam (Windows, Mac). Collaborators: GJ Lee, Warren Savage.
A game of camouflage where you can't see yourself. Change colors to hide, dodge predators, and survive intense bosses in the abstract wilderness of stealth non-bullet hell. Lose the ability to see where you are, and learn to feel and know where you're going.

EXPOSURE and CAMOUFLAGE
Being out in the open is unsafe. Avoid detection to survive. Switch between light and dark forms to camouflage, but careful: you won't be able to see yourself either.

Entrancing World
Begin defenseless, but evolve into something greater. Progress through different branching paths across 11 procedurally generated areas. Disappear into the psychedelic minimalist design and atmospheric soundscapes.

Intense Bosses
Each area introduces new predators and parasites. Everything is much more powerful than you, but everything has a weakness.

Features
Collect all the Fieldnotes. Beat the Daily Challenge. Discover the fastest routes. Shoot 'em up without shooting. Bullet hell without bullets. See without looking. Die and evolve.
Links
EXPOSURE, a game of camouflage at Steam
EXPOSURE, a game of camouflage at The Sheep's Meow
Recognition
"Indie MEGABOOTH at PAX East – Official Selection" – Boston MA, February, 2020
"PAX Rising at PAX East – Official Selection" – Boston MA, April, 2019
"IndieCade – Finalist" – Los Angeles CA, October, 2018
"Boston Festival of Indie Games – Winner, Best Experimental Game Design" – Cambridge MA, September, 2018
"Indie MEGABOOTH at GDC – Official Selection " San Francisco CA, March, 2018
"MAGFest – Official Selection" – National Harbor MD, January, 2018
"Smithsonian American Art Museum Arcade – Official Selection" Washington DC, August, 2017
"Game Devs of Color Expo – Official Selection" New York NY, June, 2017
"NYU Game Center Incubator – Official Selection & Grant Recipient" – New York NY, June, 2017
Trailer
Design Goals
Relearn spatial navigation
When playing well, players cannot see themselves
Simplicity in the controls, complexity in the world
One-button controls, switching between 2 colors

Branching level structure
Replayable in different ways
Many unique paths through 11 procedurally generated areas

Challenging bosses & speedrunning routes
Bring out and extend the flow state
Levels progress seamlessly, with no stoppage of play

Visuals & audio tied to the player's progress

Dynamic difficulty adjustment

Limited non-diegetic UI
Unconventional narrative design
Evolution theme expressed through the game's structure instead of words

Transformation narrative from being powerless to being powerful (with a twist)

Ambiguity that allows players to project their own ideas of who/where they are
Looks & sounds beautiful
Entrancing visual design inspired by Op art, minimalism

Atmospheric audio design inspired by minimalist music, ambient music

In-game screenshot tool
Procedural Level Design
EXPOSURE features branching procedural levels. Each session is different due to path and randomization of level elements.
Procedural Generation
Within each level, the procedural generation algorithm changes based on your progress.
For example, here are two different phases of the same level (SPREAD): one featuring retracting vines, and the other featuring floating seedheads.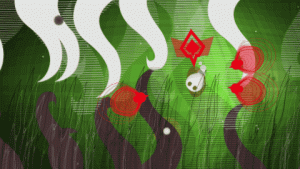 Branching Level Paths
Levels branch based on collecting light eggs versus dark eggs. There is 1 version of the first level, 2 versions of the second level, and 3 versions of the third level. The branching possibilities open up towards the middle of the game, but then close back down towards the end of the game. There are several unique paths through the game.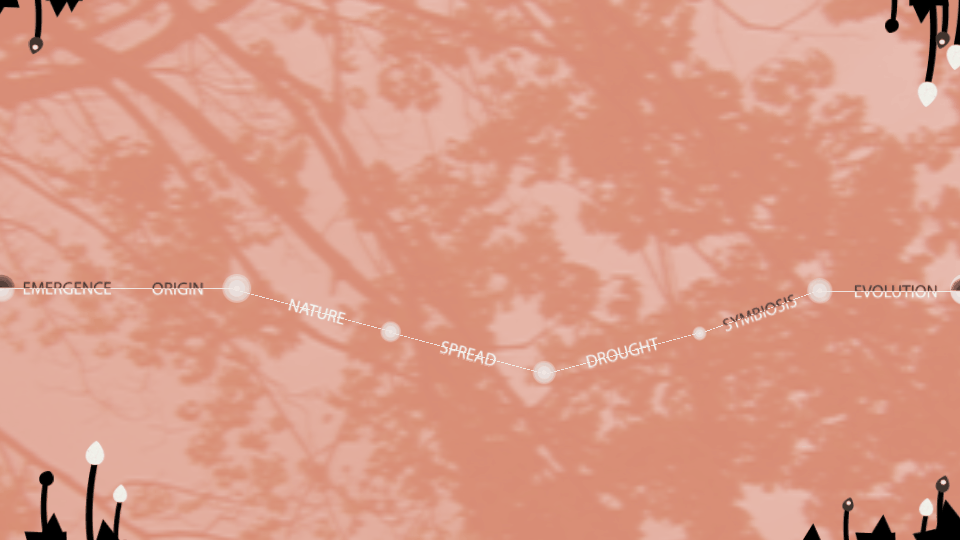 Depending on level path, the player can encounter the spider boss on the DEVASTATION level or on the DROUGHT level.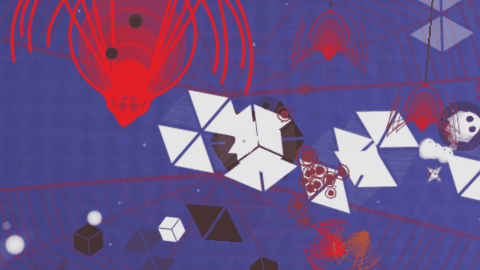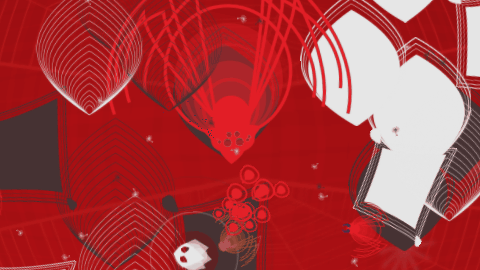 Images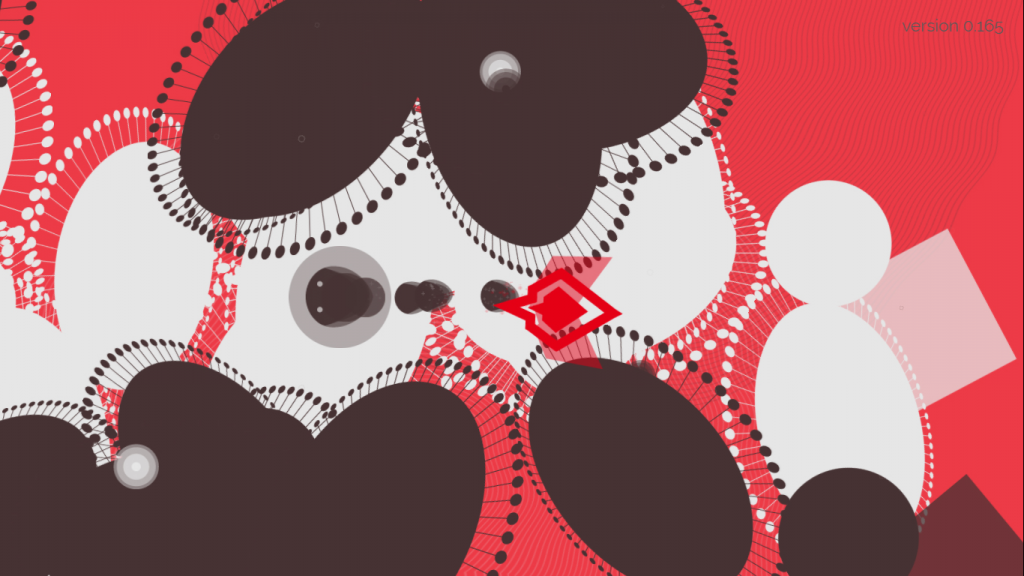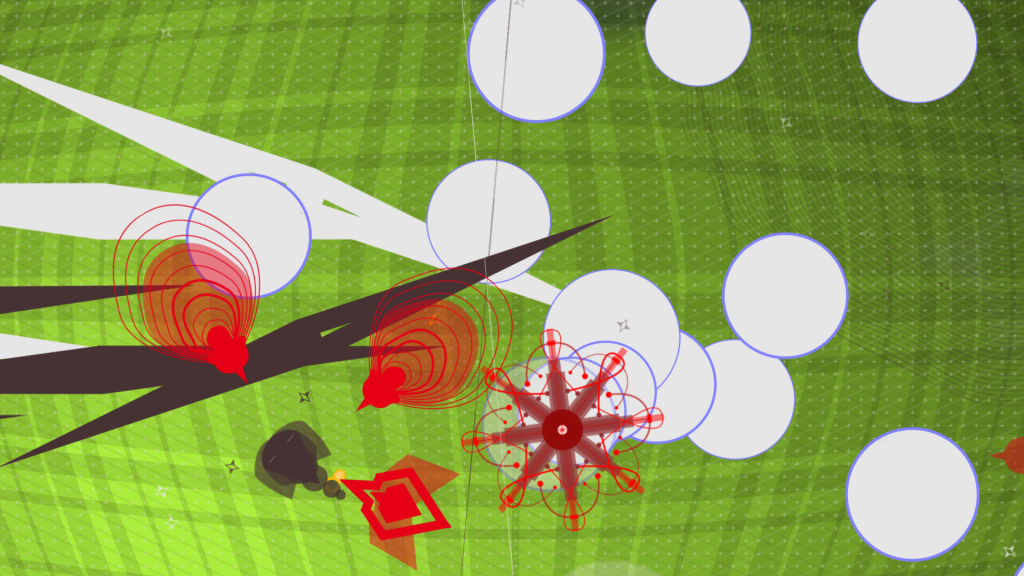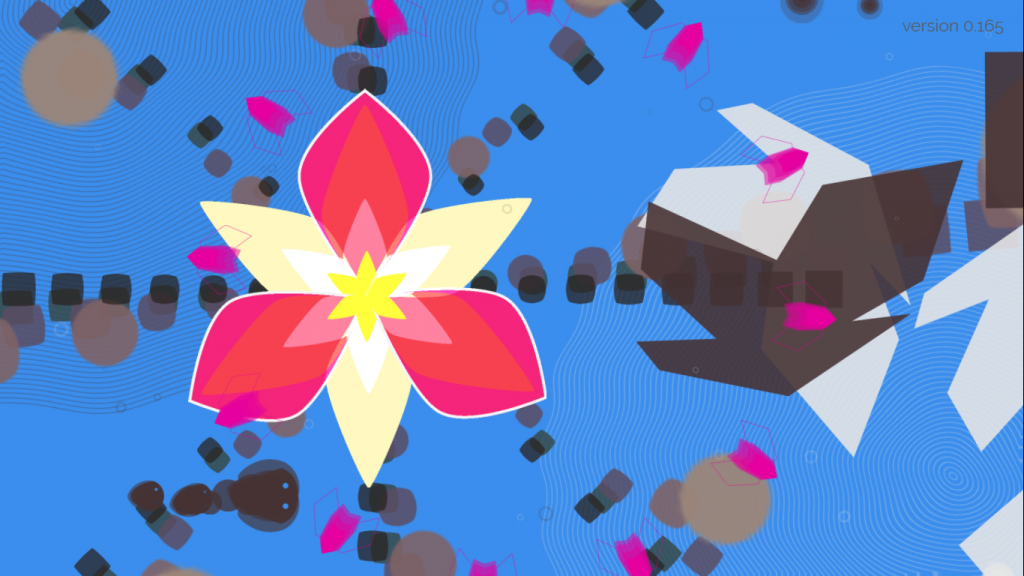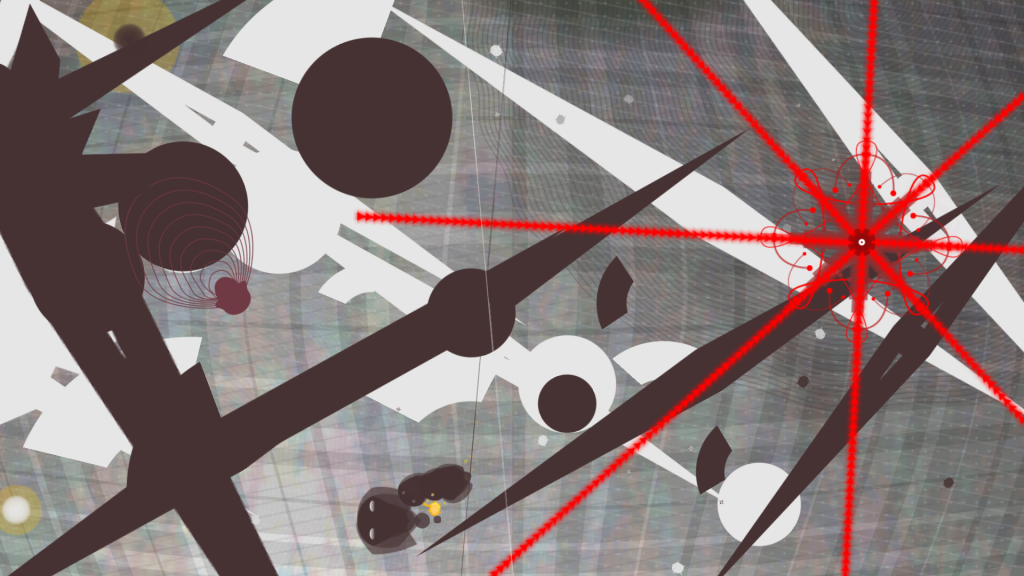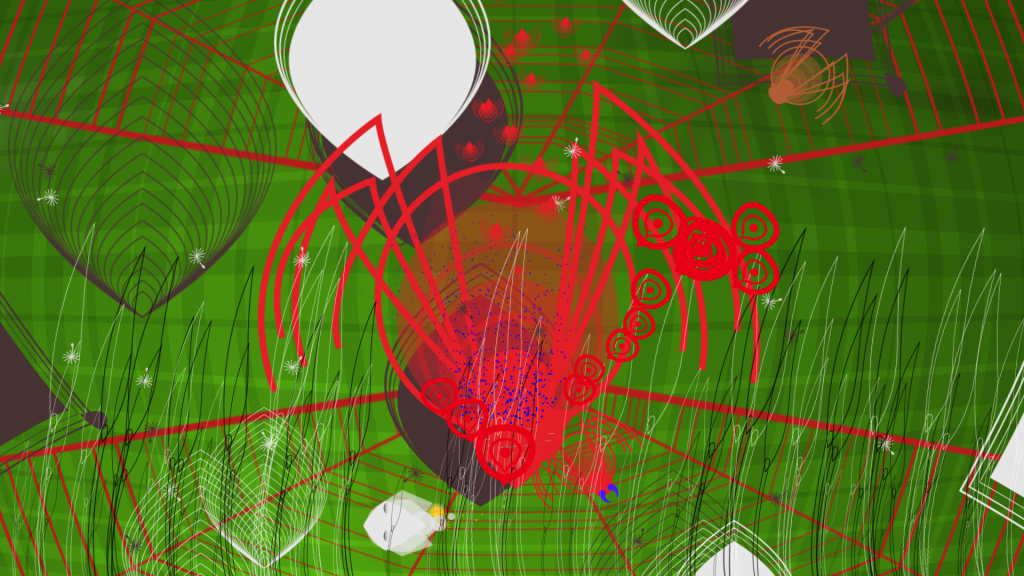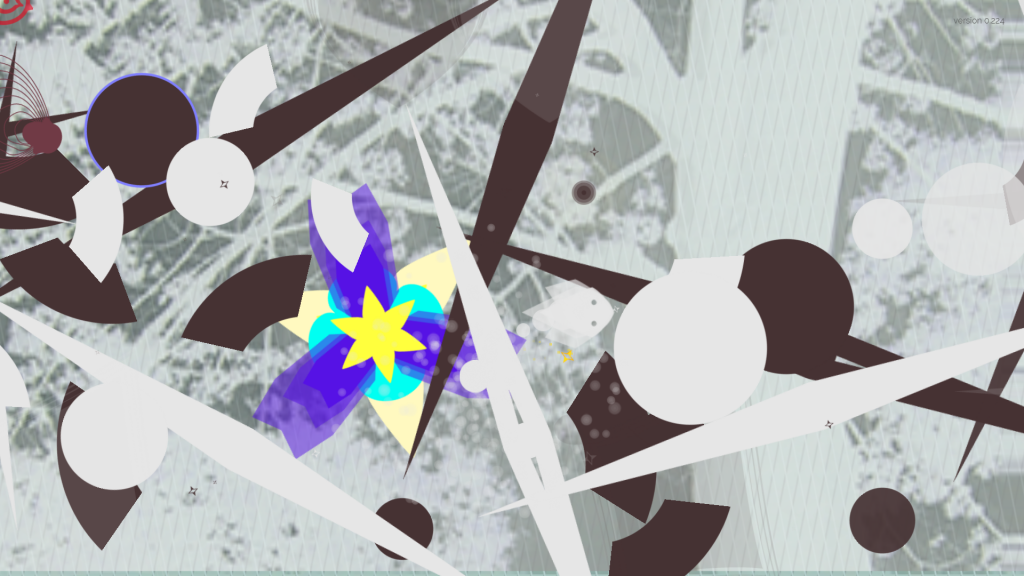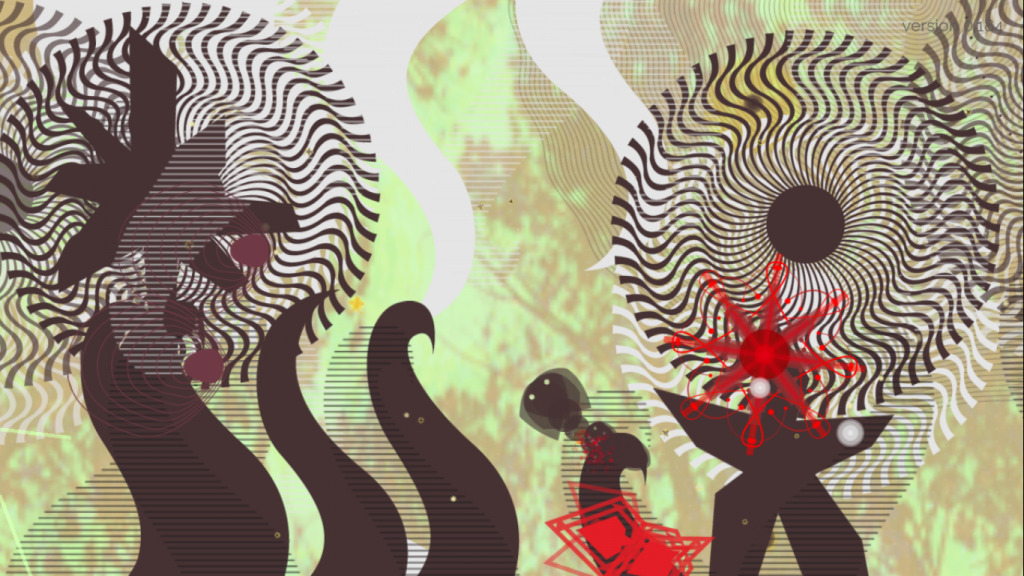 Strategic Plan Documentation
Preview images of selected pages from the strategic plan document.